ABLE Spring Conference
We invite School Business Professionals to kickstart your 2023 professional development journey with us on the 26th of January at Eastwood Hall.
In partnership with ISBL, we're building a programme that's equal parts inspiration, knowledge sharing, networking and hands-on troubleshooting. The best part is ABLE and ISBL Members can attend for free!
Why should you attend?
Be Inspired and empowered with workshops, discussions and keynotes designed to fuel the fire of self-confidence. Leave the conference ready to take on the challenges of the year ahead.
Supercharge your local and national networks. We've designed plenty of networking experiences from some snack's-based chatter to our peer-brokering Unconference.
Take away handy tools offered by our workshop leaders to help you and your team fine-tune your practices.
Get up to speed with the products and services that are changing practice and saving schools and trusts time and money.
Horizon scan with those in the know. Exploit the wealth of knowledge of speakers, specialists, and peers.
Benchmark your practice with colleagues and gain that all-important context to your decisions
Click here to view the conference agenda
There are a variety of exciting workshop choices for both morning and afternoon sessions, and a large Exhibition- a one-stop-shop for all your school, academy or MAT's procurement and contract requirements. This is your opportunity to visit a large selection of educational providers all in one place.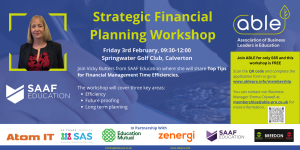 Join Vicky Butters from SAAF Education for ABLE's first business network training event of 2023. Vicky will share top tips for financial management time efficiencies at our Strategic Financial Planning Workshop- Friday 3rd February 2023, 9.30am-12pm at Springwater Golf Club Moor Lane, Nottingham NG14 6FZ
FREE for ABLE members | £40 for non-members
The session will cover, three key areas:
Efficiency
Month-end
Timelines
Cashflow,
Reconciling payroll
Forecasting
Future-proofing
Assumptions
Costings
Benchmarking
Long-term planning
Staffing structure
Funding
Maximising pupils (census dates)
Save the dates
Conferences for 2022-23 will all be held at Eastwood Hall, NG16 3SS
Spring: Thursday 26 January 2023
Summer: Tuesday 14 June 2023